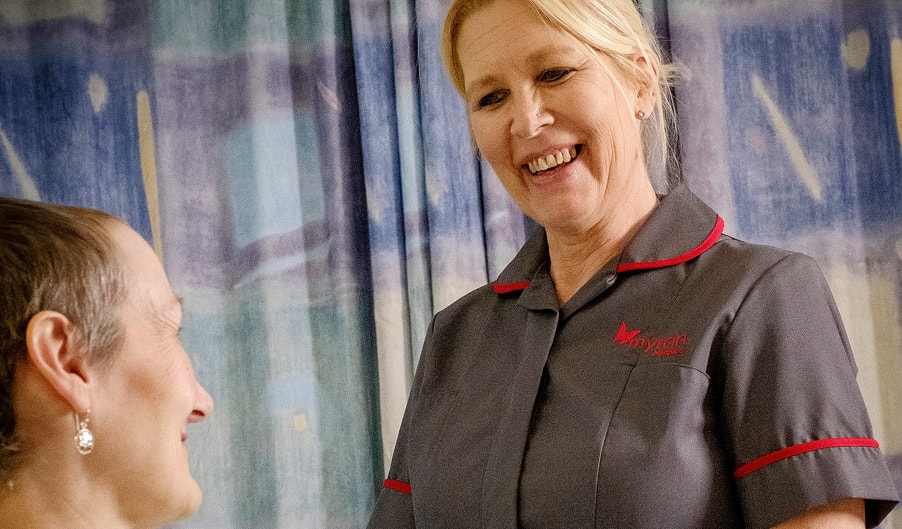 One of our goals has always been to help and give back where we can. And with the help of Myton Hospices, each purchase goes towards a worthy cause.
Whilst out and about talking with people at shows and events, we've heard first hand the benefits of keeping a Twistii close-by. However small these differences, its great to learn that each Twistii can make an impact to a persons independence, confidence and mobility whilst at home or in unfamiliar surroundings. Being able to make these differences is why we enjoy developing Twistii and is why we are delighted to have the opportunity to support Myton Hospice.
To help raise funds for the incredible work they do, we have supplied a number of Twistii's to be sold within their shops and help raise the much needed funds for their organisation.
At The Myton Hospice they believe that everyone matters for every single moment of their life and their focus is on enhancing life when cure is no longer an option. They have three hospices in Coventry, Rugby and Warwick, and have the only Hospice Inpatient Units in Coventry and Warwickshire.
Caring for people living with a wide range of terminal illnesses including Respiratory conditions, Heart conditions, Cancer, Organ failure and Neurological conditions.
Being a charity Myton Hospices have to raise £9.1 million of the £11.6 million needed this year to continue providing their services free of charge. Just 20% of their funding comes from the NHS and they rely on donations and support from local communities.
Myton Hospices' ability to raise vital funds has been significantly impacted by the pandemic and support is needed to build income back up to pre-Covid levels.
There are lots of ways people can support Myton, including; shopping or donating goods at one of their 23 shops, organising fundraising events, making a donation or taking part in an event.
Twistii is now available in their shops and whilst we hope Twistii continues to contribute, there's much more to be done. Should you feel able to help or take part to then you can attend any of the events planned for this year.
Events
Saturday 18th March
Coventry Cathedral Abseil – 10am and 5pm
www.mytonhospice.org/abseil
Why not take a walk on the wild side down Coventry Cathedral? See Coventry from new heights as you walk 90 feet down the side of the city's beautiful cathedral whilst raising vital funds for Myton!
Sunday 18th June
Snowdon for Sunrise
www.mytonhospice.org/Snowdon
Experience the sunrise over Snowdon as you climb to the summit by moonlight. Don't miss your chance to be part of this unforgettable experience…
6th – 10th March
The Myton Hospices Make A Will Week
www.mytonhospice.org/MAWW
Have you been meaning to make a Will but keep finding a reason to put it off? Then why not take advantage of Myton's Make a Will Week. A number of reputable local solicitors will be giving their time free of charge to write or update basic Wills for Myton supporters, in return for a donation to Myton.
Saturday 22nd April
Glow for Myton
www.mytonhospice.org/Glow
Step back into the 70s and get your Glow on for Myton to help raise vital funds! Coventry City Centre will come alive as hundreds of fundraisers step up for the cause and walk, jog, dance or run their way around the 70s themed 5km course before returning for the Abba Legacy After Party.
For further information on any of the events above, please visit; www.mytonhospice.org/events or get in touch with Myton Hospice directly.